Warning
: Illegal string offset 'alt' in
/wp-content/themes/ArtSee/epanel/custom_functions.php
on line
79
Warning
: Illegal string offset 'title' in
/wp-content/themes/ArtSee/epanel/custom_functions.php
on line
80
Forma: Warsztat

Prowadzenie: Steve Bingham

Grupa wiekowa: 11+

Poziom językowy: Preintermediate + / Intermediate / Upper-intermediate

Czas trwania: 60 min
Opis:
This is a unique opportunity for Polish students to take part in a very unusual experience in English. It's a language, culture and music class in one which will raise students' confidence in their use of English as they see they understand and can take active part in what's happening. Acclaimed violinist Steve Bingham explores popular music, using classic violin, electric violin and plenty of technology! He'll introduce the "looping" technique to compose your own song. Students also learn about the modern British Culture and its icons. Participants of the project will be provided with a generous set of learning materials to cover before and after the workshop. Due to his passion, experience and outstandingly good contact with young people, Steve Bingham's 2008 workshops have been voted the best workshops ever by NaukaBezGranic.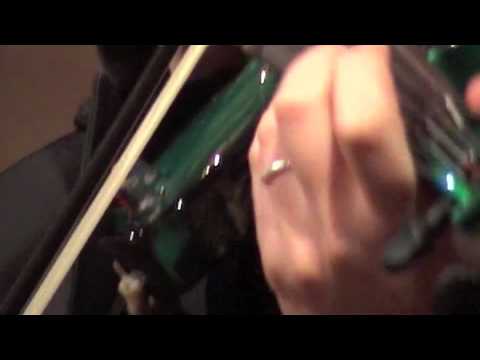 Prowadzenie:
Steve Bingham, bez wątpienia jeden z najbardziej różnorodnych muzycznie skrzypków na świecie. Steve Bingham znany jest ze swojej pracy jako lider Bingham String Quartet i za jego recitale solowe na skrzypce i skrzypce elektryczne. W ciągu ostatnich dwunastu miesięcy Steve występował jako skrzypek solista grając na skrzypcach klasycznych i elektrycznych, był konsultantem muzycznym w projekcie uniwersyteckim, pojawił się na scenie West End w Londynie w Royal Shakespeare Company, pracował z dziećmi ze szkoły podstawowej w Londynie i Aberdeen , występował gościnnie jako drugi główny skrzypek z BBC Scottish Symphony Orchestra, nagrywał z duetem No-Man, zagrał solo na skrzypcach do kilku ścieżek dźwiękowych filmów, wykonał koncert skrzypcowy Mendelssohna, występował w show "TouchableDreams" Jeremiego Harmera, został ambasadorem European String Teacher's Association, koncertuje w duecie "Phase 2 ", regularnie występuje z Bingham Quartet. Dla NaukiBezGranic tworzy warsztaty muzyczne, w których prezentuję swoją technikę gry zwaną "looping", a uczestnikom umożliwia spróbowanie własnych sił w grze na skrzypcach klasycznych i elektrycznych, jak również skomponowanie własnego utworu. Niezwykle ciepły, sympatyczny i otwarty na innych, a zarazem skromny człowiek.
Materiały dydaktyczne:
Specjalnie opracowane dla Państwa materiały do wykorzystania na lekcjach szkolnych przed i po wydarzeniu.
Bob Dylan Quiz Students Worksheet Teachers Notes and Answer
Bob Dylan Students Worksheet Teachers Notes and Answer K
BRITs Quiz Students Worksheet Teachers Notes and Answer
BRITS Quiz Students Worksheet Teachers Notes and Answer
Coldplay Quiz Students Worksheet Teachers Notes and Answ
Coldplay Quiz Students Worksheet Teachers Notes and Answ
Mike Oldfield Quiz Students Worksheet Teachers Notes and
Mike Oldfield Quiz Students Worksheet Teachers Notes and
Musical Instruments Quiz Students Worksheet Teachers Not
Musical Instruments Quiz Students Worksheet Teachers Not
Nirvana Quiz Students Worksheet Teachers Notes and Answ
Nirvana Quiz Students Worksheet Teachers Notes and Answe
The Beatles Quiz Students Worksheet Teachers Notes and A
The Beatles Quiz Students Worksheet Teachers Notes and A
Yes Quiz Students Worksheet Teachers Notes and Answer Ke
Yes Quiz Students Worksheet Teachers Notes and Answer Ke
Musical_Mystery_Tour_of_Britain_pre-workshop_task
Musical_Mystery_Tour_of_Britain_pre-workshop_task
Musical_Mystery_Tour_of_Britain_post-workshop_tasks
Musical_Mystery_Tour_of_Britain_post-workshop_tasks