Warning
: Illegal string offset 'alt' in
/wp-content/themes/ArtSee/epanel/custom_functions.php
on line
79
Warning
: Illegal string offset 'title' in
/wp-content/themes/ArtSee/epanel/custom_functions.php
on line
80
Forma: Wykład z elementem warsztatów

Prowadzenie: John Cudak / Richard Mullaney

Grupa wiekowa: 15+

Poziom językowy: Preintermediate + / Intermediate / Upper-intermediate

Czas trwania: 60min
Opis:
Workshop can be conducted by either John Cudak or Richie Mullaney. It is devoted to the life and the writing of Oscar Wilde and gives the opportunity to find out more about the times he lived in, and the times he was imprisoned and exiled in, his studies at Trinity College Dublin as well as Oxford University, his marriage, his London life and his Paris death.  Also a chance to learn more about his writing style, the Picture of Dorian Gray, The Importance of Being Ernest, and The Ballad of Reading Goal. Lat but not least a look at some of the quotes like: "The world is a stage, but the play is badly cast."
Prowadzenie:
John Cudak urodził się w Chicago, mieszka od wielu lat w Polsce. Serce oddał edukacji, szerzeniu tolerancji i sztuce. Pracował jako wykładowca w Kolegium Języka Angielskiego w Chełmie, oraz dyrektor stowarzyszenia Beit Warszawa. Od kilku lat prowadzi warsztaty o charakterze interkulturowym dla NaukiBezGranic. Zainteresowania pisarskie Johna odnalazły odzwierciedlenie w wystawionej w 2011 po raz pierwszy sztuce Joe's Birthday. Walczy z brakiem tolerancji i otwiera ludziom oczy na różnorodność kulturową współczesnego świata. Trafne uwagi, życiowe morały, dystans do samego siebie i świetne poczucie humoru to jest to co młodzież ceni w nim najbardziej.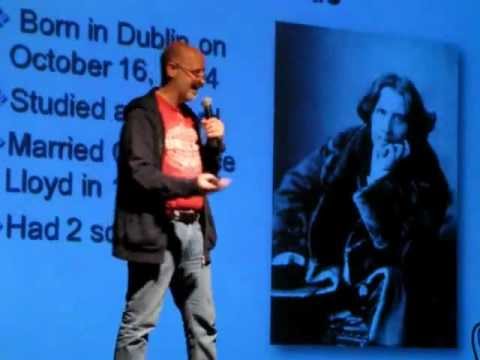 Materiały dydaktyczne:
Specjalnie opracowane dla Państwa materiały do wykorzystania na lekcjach szkolnych przed i po wydarzeniu.
Be Oscar Wilde (Upper-Intermediate)
Be Oscar Wilde (Upper-Intermediate)
Some Wilde's Works (Intermediate)
Some Wilde's Works (Intermediate)
Some Wilde's Works (Upper-Intermediate)
Some Wilde's Works (Upper-Intermediate)
Victorian Quiz (Upper-Intermediate)
Victorian Quiz (Upper-Intermediate)
Wilde's Quotes (Upper-Intermediate)
Wilde's Quotes (Upper-Intermediate)